Air date:
Tue, 11/02/2021 -

6:00pm

to

7:00pm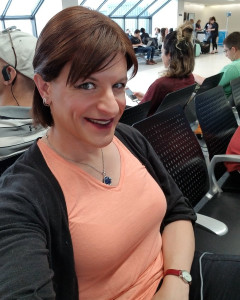 Please join us for Transpositive on KBOO Community Radio on Tuesday, November 2nd as we talk with Máel Embser-Herbert & Lieutenant Colonel Bree Fram. When "Don't Ask, Don't Tell" was repealed in 2011, the LGB community declared a major victory, while transgender enlistees and officers continued serving in silence. On June 30, 2016, Secretary of Defense Ashton Carter announced that transgender people would be able to serve openly. On July 26, 2017, Donald Trump tweeted: "The United States government will not accept or allow transgender individuals to serve in any capacity in the U.S. Military." On January 25, 2021, Joe Biden reversed Trump's widely condemned ban. On March 31, 2021, the President announced a new policy allowing transgender individuals to serve openly. 
Should transgender service members celebrate the future of a more inclusive military—or prepare for the next administration to turn back the clock again?   With Honor and Integrity: Transgender Troops in Their Own Words (NYU Press; November 9, 2021) explores this question and other concerns—practical, social, financial, and medical—through the voices of transgender military personnel, past and present. Editors Máel Embser-Herbert, sociology professor and US Army veteran, and Lieutenant Colonel Bree Fram, who is serving openly as a transgender woman in the US Space Force, share honest, heartfelt, and often heart-wrenching accounts from 26 individuals who know what it is like to serve in the US military as a trans person.
MÁEL EMBSER-HERBERT is a Professor of Sociology at Hamline University. They are a veteran of the US Army and author of Camouflage Isn't Only for Combat: Gender, Sexuality, and Women in the Military and The U.S. Military's "Don't Ask, Don't Tell" Policy: A Reference Handbook.
BREE FRAM is a lieutenant colonel in the US Space Force who has held command at the squadron level, led Air Force security cooperation with Iraq, and led space acquisition programs. She is the President of SPARTA, a transgender military advocacy organization, and is currently the highest-ranking out transgender officer in the US military. 
Transpositive is a biweekly program in Portland exploring themes important to those who identify as Transgender, Gender Non-Binary, and Gender Non-Conforming. Transpositive tries to connect listeners with the ongoing activist, arts, culture, and dialogue happening in Portland and beyond. Make your voice heard! Transpositive PDX is open to new and experienced programmers, guests, and events you want our community to know about. We are an open collective. Anyone who identifies as trans, gender non-binary, gender fluid is welcome to be part of our collective after completing some basic free radio training. For more information contact Emma at transpositivepdx@gmail.com
like us on Facebook: facebook.com/transpositivepdx
 
program archives 2016-2021: kboo.fm/transpositivepdx
Update Required
To play the media you will need to either update your browser to a recent version or update your
Flash plugin
.
Download audio file