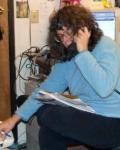 Produced for (Program name):
Host of Between the Covers, Political Perspectives and Radiozine.
Kathleen Stephenson began her volunteer work at KBOO in the News Department in 1985. In 1988 she was hired as the News and Public Affairs Director. She has been the AM News and Public Affairs Director since 1996. In 1997 she received a Community Treasure award from TACS (now known as NAO, the Non-Profit Association of Oregon). Before being on staff at KBOO, Kathleen worked as a graphic artist and illustrator, research assistant, census supervisor, waitress, motel maid, and kitchen helper. She is also a ceramic sculptor, and has exhibited her ceramic work in Portland, Seattle, Nashville and Chicago. She has a B.A. in Sociology from the University of Chicago.