Air date:
Fri, 01/05/2018 -

5:00pm

to

5:15pm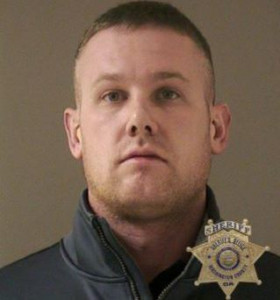 A Washington County Sheriff's Deputy has been sentenced to a year and a half of probation. Bryce A. Kampwerth, a deputy sheriff since 2014, was caught in possession of anabolic steroids while off-duty in May. After an investigation by the Beaverton Police Department, the WCSO arrested Kampwerth on December 18 and he was sentenced on the 21st. It is unclear if the steroids in Deputy Kampwerth's possession were prescribed to him.
Kampwerth also owned an online fitness meals business called KampBFit. It only opened at the beginning of December, according to his Twitter account, though it has yet to show up in the Oregon Secretary of State's business listings. An inquiry as to the status of the business, sent to its email account, was not returned.
Kampwerth was previously an officer with the Klamath Falls Police Department, but was given a probationary discharge in 2009. The Police Chief for Klamath Falls said via email that he was unable to discuss personnel issues including the reason for the discharge.
According to the website Steroid.com, which is dedicated to "unbiased and straightforward" information about the use and effects of steroids, 33-year-old Kampwerth is a former competitor in local contests held by the National Physique Committee, or NPC. NPC is the only US organization recognized by the International Federation of BodyBuilders, making it the primary pathway to professional bodybuilding for Americans. While Steroid.com describes steroid use as "practically a prerequisite for top amateur bodybuilders and men's physique competitors who want to have any chance of winning a competition sanctioned by the NPC," the site still stresses the importance of getting a prescription from a longevity or men's health doctor.
The attitude among law enforcement agencies towards steroids is also somewhat muddled.
The website Officer.com is owned by Law Enforcement Product News, and is a main source of commentary from the law enforcement perspective. An investigation by the site in 2012, called "Roid Rage," written by a former Internal Affairs investigator, connected the use of steroids among law enforcement officers to an emerging culture of physical fitness and health, pressure to quote "look good" in uniform, and to longer hours caused by manpower shortages.
The report concludes that just as steroids are banned in sports, so should they be banned in law enforcement. The reasoning was heavily weighted towards the detrimental effect of steroids on officer's bodies, but also mentioned side effects of anabolic steroids that are worrisome for the public as well: severe mood swings, feelings of invincibility, depression, nervousness, and hostility or aggression.
While a number of police departments across the country have enacted random testing for steroids, the Portland Police Bureau has not. The PPB's policy is "reasonable suspicion" testing, meaning it is up to fellow officers to report possible drug-induced behavior or characteristics to a supervisor.
KBOO asked PPB's Public Information Officer, Sgt. Chris Burley, if the Bureau or City had any specific steroid testing policies, above and beyond what is described in the Bureau's directives. He replied that the Bureau's attitude to prescription drugs and testing is defined by the directives, and quoted directive 316.10, which states that if an employee is using any medication that they think may affect their performance, they must "consult with their treating physician or pharmacist to determine if the medication will, in fact, have such an effect." The Bureau itself cannot look at a member's medical or prescription information due to federal HIPAA regulations and labor laws.
Burley directed further questions to the city's Bureau of Human Resources to see if the city had any steroid testing policy. Human Resources has not responded to questions as of this broadcast, but the Human Resources Administrative Rules' drug testing policy states that it does not cover the Police Bureau and other sworn personnel, instead referring to the Bureau's own directives.
Sam Bouman, KBOO Portland
(Correction: the audio version of this story references Portland City Code in the last sentence--in fact the source was the Bureau of Human Resources Administrative Rules, as seen in the link.)
Update Required
To play the media you will need to either update your browser to a recent version or update your
Flash plugin
.
Download audio file